North Karelia – the eastern­most region of contin­ental Europe
North Karelia is a province of Finland and the eastern­most region of contin­ental Europe
Popula­tion 162 500
Number of municip­al­ities 13, of which 5 are towns
Regional centre Joensuu is a univer­sity city
Total area 23,000 km2, of which 70% are forests
Koli is the highest point of Southern and Central Finland (347 m)
Distance to Helsinki, capital city, is 450 km which is covered e.g with one hour flight or five hours by car.
Everyday language is Finnish but most Finns speak English as well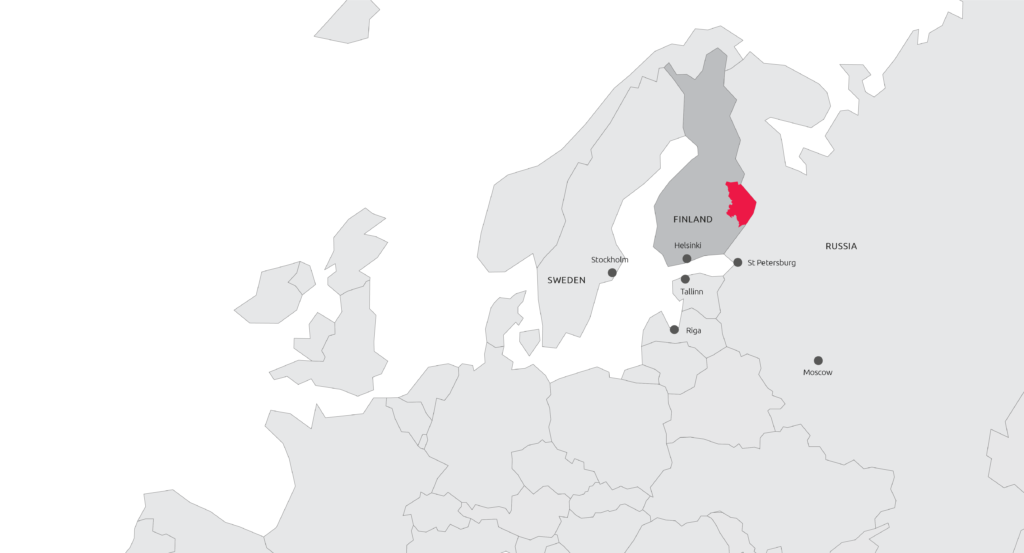 Weather Condi­tions
The climate of North Karelia is cold contin­ental with warm summers and snowrich winters. It shows 4 unique distinct seasons, and each of them brings out something different in nature.
Karelian Culture
Karelia has been a part of Finland since independ­ence in 1917, but previ­ously the country had been ruled by both Sweden and Russia. The Karelian border has been redrawn many times over the centuries. Since then it is a unique meeting point of the eastern and western cultures and religions. The origin­ality and distinct­ive­ness of Karelian culture can be seen in everyday life.
Treas­ures of Nature
North Karelia is famous for its natural attrac­tions, food tradi­tions, and slower pace of life. With about 2,200 lakes and 24,000 holiday cottages, this is where Finns go when they want to relax and enjoy nature.
North Karelia provides excel­lent surround­ings for recre­ation and relax­a­tion for nature-lovers. Visitors to Karelia can find a broad spectrum of Finnish landscapes: rugged ridges, hills, marshes, backwoods, lakes and rivers with sandy beaches and islands galore. There are about 2000 lakes here, and about two-thirds of the area is covered with forests. If you're looking for amazing scenery, the cleanest air in the world and untouched nature to enjoy without the usual throngs of tourists, a trip to the North Karelia could be right up your street!